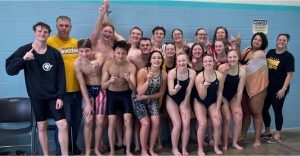 Milan sweeps ORVC swimming titles – WRBI Radio
At Saturday's ORVC Swimming Championships, Milan won both conference titles. The Lady Indians took second place from the South West 92-78 and the boys from Milan beat second from County Switzerland 96-77.
The other scores for the women's team: Switzerland County 50, Rising Sun 39 and South Ripley 16.
Other men's team scores are Rising Sun 42.5, South Ripley 9.5 and Southwestern 7.
Individual Ripley County Schools Conference Champions included two each by Milan's Emily Knueven, Parker Sutherlin, Ariel Haessig and Dylan Thomas plus one by Adam Volz. The Indians have also won three relay titles.
Full results appear below Milan coach Heather Thomas.
South Ripley Unedited Report from Coach Stacey Eaglin: Going into CRVO, our plan was to achieve personal bests and the swimmers achieved that. If you look closely at some of the races, the swimmers sometimes missed out on 1st place by hundredths of a second. Some intense races to watch.
I'm very proud of the swimmers and can't wait for the next races before the sections! Some highlights:
Darcie Diem 2nd in 200 free and 100 free
Olivia Kavanaugh 3rd in 50 free
Evan Eaglin 3rd in 50 free. Best race I've seen in a long time! and 2nd out of 500 Free
Darcie Diem broke her 200 freestyle record with a new record time of 2:12.57
Coach Eric Cole's Swiss County Info: ORVC MVP Boys – Nathan Furnish
All conferences
Nathan Furnish
Adrian Armstrong
Caleb Rider
Derek Hoskin
School reports
Caleb Rider – backstroke
Men's 400 freestyle relay
2022 ORVC Swim Results
We thank coaches Thomas and Eaglin for the information.